Acorn Superglide Straight Stairlift
The ideal solution for a straight staircase.
The ultimate staircase solution giving you the full use of the home you love.
Blending seamlessly into your home, with a smooth start and stop mechanism, you can glide effortlessly up and down the stairs.
All of Acorn's current stairlifts have been independently tested and certified to comply with the newest European safety standard for stairlifts, BS EN 81-40:2008, as well as the worldwide standard for stairlifts, ISO 9836-2:2000.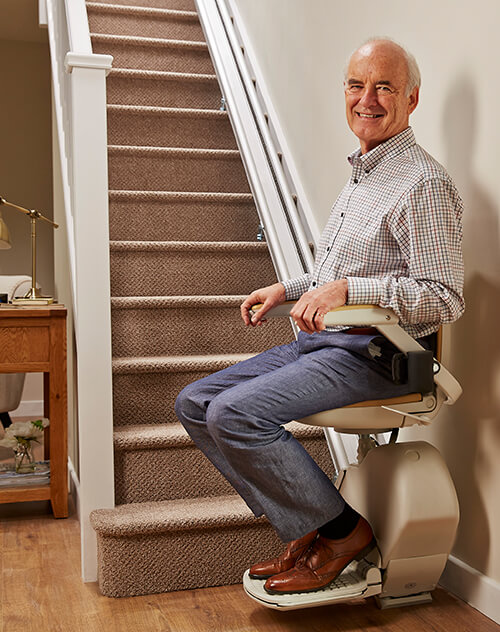 Features:
Comfortable padded seat and backrest which is hard-wearing and gives extra support.
Simple two direction switch is easy to use.
Inertia seatbelt fitted as standard provides security and safety to the user.
The stairlift's seat, arms and footrest fold away neatly when not in use.
The stairlift seat swivels to allow the user to exit the lift without discomfort.
Fits directly to your stairs and plugs into a dedicated 3-pin mains electrical socket
The stairlift can be safely locked and deactivated with a key.
Simple digital display shows correct functioning and quickly diagnoses any problems.
For added safety, the stairlift has five safety sensors on the footrest and carriage that immediately stop the lift at any obstruction on your staircase.
Two remote controls, with large easy to use buttons, come as standard to call the lift upstairs and downstairs.